Verjamem, da vsi šoloobvezni otroci in mladostniki že komaj čakajo zaslužene počitnice. Ob zaključku leta jih še čaka eno prijetno opravilo – darilca za učitelje. Glede na to, da v šolskih klopeh preživimo ali pa smo preživeli kar nekaj časa, se mi zdi to lepa gesta. V mojih časih šolanja (ok, tole se sliši kot da sem stara 100 let :)) smo zmeraj s kakšno pozornostjo obdarili naše razrednike in najljubše profesorje; tiste, s katerimi pa nismo ravno uspeli priti na isto valovno dolžino, pa v upanju, da bo drugo leto bolje 😉
Danes sem se spet malo posvetila kaligrafiji, se podružila s peresom in črnilom ter pripravila 3 etikete za darila, ki si jih lahko prenesete in natisnete tukaj. Po svoje jih dekorirajte, porišite, natisnite na poseben papir ali kako drugače dodajte svojo osebno noto. Tudi obliko si lahko čisto prilagodite glede na vrsto darila. Spodaj je nekaj primerov, kako sem to izvedla jaz.
Če darilca še niste izbrali, ga  lahko izdelate tudi sami, za navdušence umetnosti je morda prava stvar tudi kakšna slika z rožicami, za ženske predstavnice učiteljskega zbora pa je lahko lepo darilo tudi nakit.
Zelo me veseli, da vam lahko danes predstavim še eno ustvarjalko, ki preizkuša tudi DIY projekte, ki jih tedensko pripravljam na moji spletni strani. To je Suzana Šuklar, izdelovalka nakita iz barvne žice, perlic in drugih dodatkov.  Njene čudovite izdelke si lahko ogledate na spletni strani ali všečkate in jo spremljate na Nakit by Zana.
Kot sem že omenila v članku o umetniških sejmih, je pomembno, da svoje izdelke ustrezno predstavite tudi s podobo embalaže. Suzana je super uporabila DIY projekt izdelave škatlic za svoj nakit in škatlico opremila še z etiketo iz današnjega projekta. Če potrebujete darilce za učiteljico ali kakšno prijateljico, ki ima kmalu rojstni dan, je tudi unikatni nakit res odlična izbira!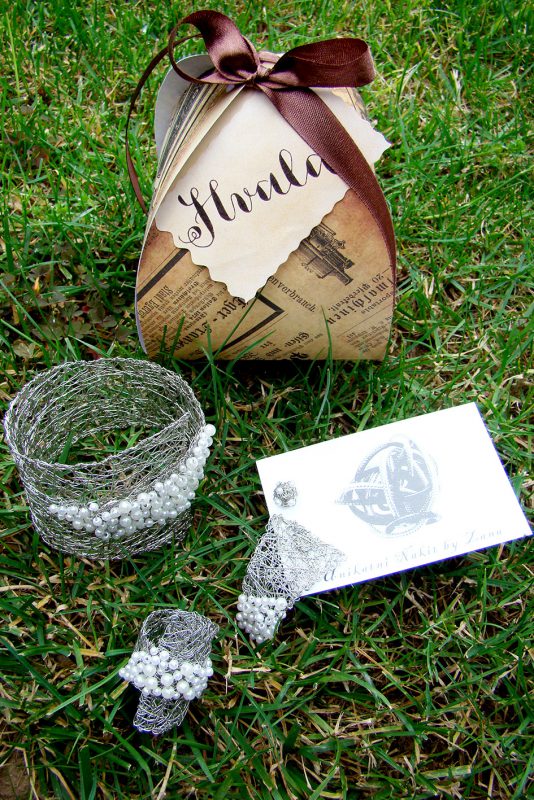 Res me veseli, ko vidim, kako v DIY projekte vnašate svoje ideje in jih uporabite pri svojem lastnem ustvarjanju in promociji izdelkov.
Če bi želel/a tudi ti predstaviti kakšno svojo izvedbo mojih DIY projektov in ob tem svoje delo, mi piši. Izjemno se veselim vsakega vašega prispevka!
Lep ponedeljek vsem in H – hvala, ker me spremljate 🙂
Tukaj se lahko naročiš na brezplačne e-novice in 1x tedensko prejmeš pisano e-sporočilce o vseh art novičkah in brezplačnih vsebinah, ki so na voljo.
Zadnji DIY projekti: DIY dekoracija iz poletnega cvetja, DIY dišeči srček iz filca, DIY dekorativne pisemske kuverte