V pomladnih mesecih imamo en kup praznovanj, zato so poleg vseh slikarskih podvigov in kaligrafije na tapeti tudi voščilnice. Moja zgodovina izdelave voščilnic sega v osnovno šolo, kjer sem uporabljala konture in barve za steklo, ki so na papirni podlagi dajale svetleč, ploskovni efekt. Kasneje sem pričela kombinirati akrilne barve in papir iz katerega sem izrezovala razne motive. Nekaj časa je vladala prava scrapbook manija in papirčkanje, pri čemer sem si sama oblikovala celotne komplete barvnega papirja z raznimi vzorčki in jih natisnila v tiskarni. Tega se še vedno poslužujem, pa vendar so mi trenutno najboljše voščilnice, kjer uporabljam akvarelne barve in kaligrafsko pero.
Akvarel mi je všeč predvsem, ker je zelo enostavno senčiti, jakost barv uravnavaš z vodo, hitro lahko zmešaš odtenke, nekako bi opisala vse skupaj kot obvladljivo neobvladljivo slikanje 🙂 Po domače povedano: barva gre malo po svoje, vendar ravno zaradi teh prehodov izpade super 🙂
Pri slikanju z akvareli je pomemben predvsem izbor papirja, ki mora biti dobro vpojen in višje gramature (250g in več). Kakšni premazani papirji niso ravno najboljša izbira. Če to kombinirate s kaligrafijo, je lahko to manjši izziv, saj pa kaligrafija lepše teče po premazanem papirju. Se pravi je potrebno najti neko zlato sredino in včasih tuš zamenjati za kakšno redčeno tempera barvo.
Najprej si na papir narahlo skicirajte željeni motiv.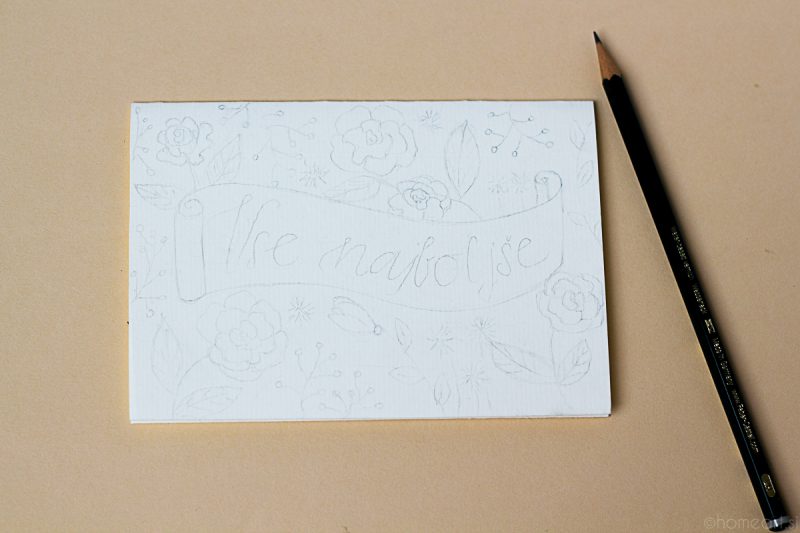 Z akvareli najprej pobarvajte svetlejše dele, nato temnejše, pustite, da se barve malo prelijejo in ustvarijo zanimive prehode. Ne skrbite, če kje zaidete čez črto.
Ko se vse skupaj posuši, izrišite motiv, ki ste ga na začetku skicirali s svinčnikom. Pri tem uporabite tuš ali črno pisalo. Tudi če barvne ploskve niso povsem usklajene s črtnim motivom ni pomembno, saj pri akvarelu vse to izgleda povsem naravno.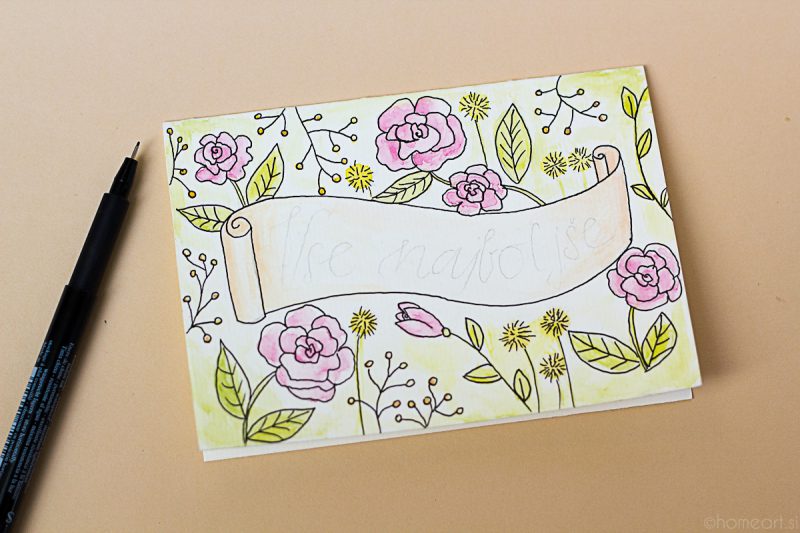 Nazadnje si izberite še eno lepo pisavo, ki bo dopolnila celoten izdelek.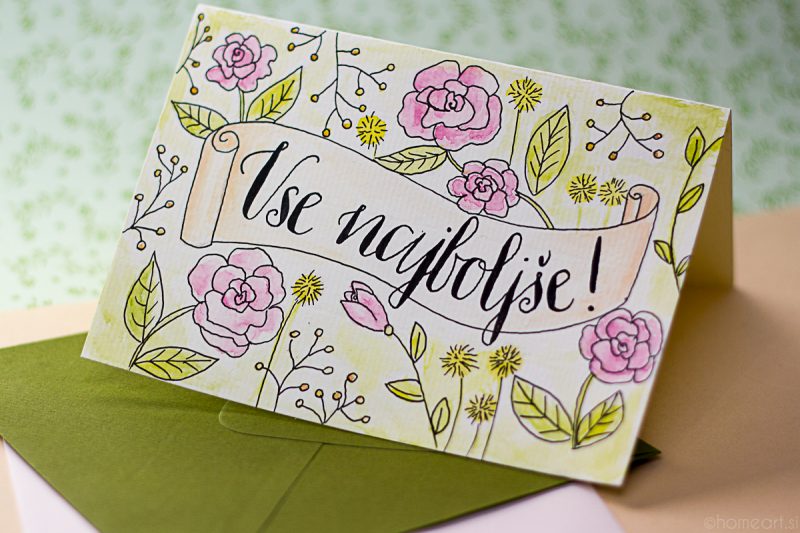 V dobi računalnikov in telefonov so včasih manjše pozornosti, ki nas čakajo v tistem pravem poštnem nabiralniku, prav lepo presenečenje. Če pa boste slavljenca/ko obiskali kar osebno in vse skupaj dopolnili še s kakšnim darilcem, vam morda prav pride še kateri izmed spodnjih DIY projektov:

Lep ustvarjalni ponedeljek!