Valentine's day is here and you are probably already planning a surprise for your beloved ones. For all of you creative people I have a little DIY project, you can download it for free and print it. In this simple creative project I combined my painting and calligraphy skills, instructions below:
I always preferred small attentions, especially handmade gifts. That always shows care and there's some effort in it. With this DIY project, you can make great little gifts for your friends, coworkers, kids, husbands, wives, boyfriends and girlfriends.
Download free prints of chocolate cover, heart shaped tag and small card.  This print is size of A4 format, use a bit thicker white paper.
Cut out the graphics.
Choose colors that you love to work with, I used some color pencils that react like watercolors, when adding water. Pay attention that water doesn't dissolve printed ink. You can also leave it white and just decorate with silver or gold pens.
When you've done with coloring, choose a nice pen for writing, if you're an expert in calligraphy or lettering, this will be even more joyful part of DIY project.
The best part is the last part, fold everything together, add some flowers, decoration or silk ribbon. The chocolate cover is for regular size (about 100g of chocolate). For mini card use perforator and tie it to a present.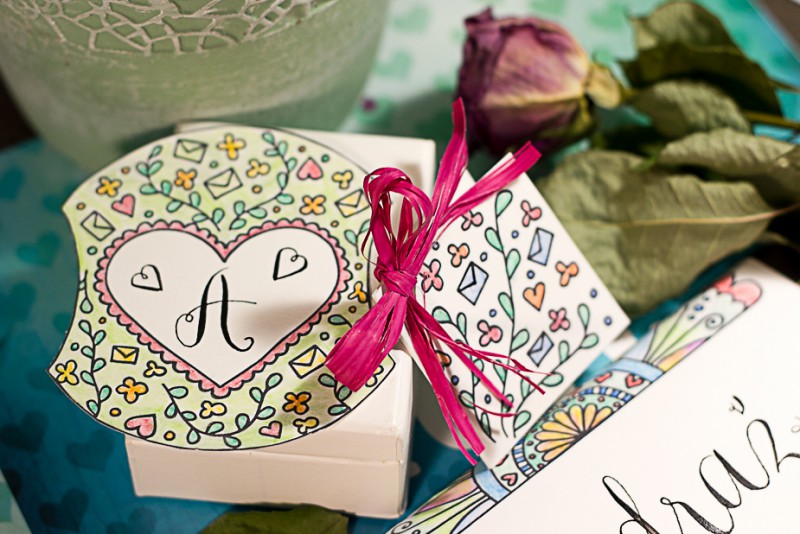 Share love and celebrate Valentine's day every day, we can always make someone's day brighter!
Have a wonderful day***