I've been painting for more than 10 years now and at the beginning, I mostly painted flat art focused on developing techniques and how to master proportions, composition, colors. I've never thought much about other dimensions that can be created as well. A few years ago I came across some beautiful floral artworks, where there was a lot of structure. That totally brought up my curiosity. I began to gather information about materials which create such an awesome effect. There were not so many options for this, I found few mediums in a local art shop. Mostly there were just thick colors mixed with some kind of grain, in very small packages so that didn't really work for me because I go heavy on texture 🙂
I finally found some modeling paste from Liquitex and have been using it for few years. I always had to order it from abroad because here was available packaging only in small quantities also very expensive ones. I wondered of what ingredients is the paste made, it had a pretty nasty smell and no information about that could be found on the package. It just seemed to me a bit unhealthy, especially when drying my canvases inside the apartment.
As an artist who loves the texture, I always tried to figure out new ways to make it and use on the canvas. I also love nature and I think that every single person can do small but effective changes to help and provide more environment-friendly solutions. That is why I did a bit of research, how to make my own paste at home. I found different options and decided for one.
My latest painting of roses was made with homemade texture paste. As you can see I  made a very structured background and almost kind of sculptured flowers. I worked with palette knives. I love how you can make your own paste as thick as you want and it is very efficient since it doesn't dry longer than the bought mediums.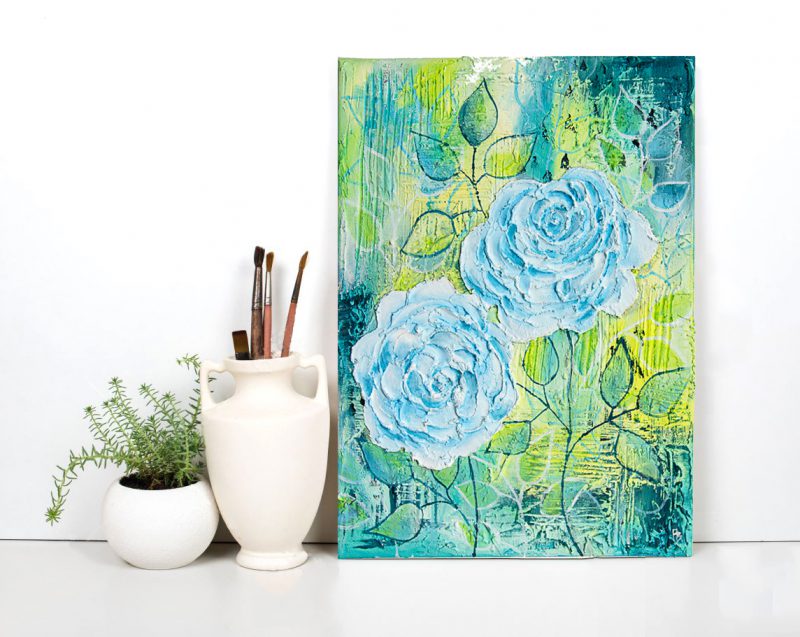 If you browse through the web you will find many options for making your own texture medium or gesso. Some people buy the paste for wall corrections but it's not so great because it gets like a chalk and surface is covered with white dust which later mixes with color. We don't want that. One option of homemade paste was with baby powder, it is nice because it is really really smooth, but I am not sure I like the smell of baby powder. The third option that I figured as the best one was with baking soda. See the recipe below.
Baking soda homemade texture paste:
6 units of baking soda
2 units of white glue
3 units of white acrylic color
*for first try 1 unit can be 1 spoon.
This mix works best for me, the amount of color can vary, it depends on color fluidity and what kind of paste you want. If you want a medium for heavy texture use more soda if you need it for gesso use more color.
The glue is not the most natural thing but definitely better than chemically produced mediums. If you have any idea or ingredient that could replace this glue, let me know!
You mix up all the ingredients together and store it in a tightly closed container or a jar. It's good to have it in stock so when the inspiration strikes you are always ready to make art 🙂
Hope this helps you and encourages you to try something new. Have a lovely day!